Boston's culinary scene has flourished and diversified immensely over the years, making it a must-visit city for food lovers. Known for its fresh seafood, historic taverns, and international cuisine, Boston has something for everyone. Here is a curated list of the 13 best restaurants in Boston for 2023, each offering a unique dining experience.
13. Row 34
Row 34, located in Fort Point, is a sleek and modern seafood destination, focusing on fresh and sustainably sourced produce served in a vibrant and contemporary setting.
Seafood & Brews
Row 34 offers a variety of fresh seafood dishes, including a diverse selection of oysters and craft beers. The menu is a seafood lover's dream, offering fresh, flavorful, and responsibly sourced options, making it a standout choice for casual dining.
Industrial Chic
The décor at Row 34 is industrial yet chic, with exposed brick and modern furnishings creating a lively and stylish ambiance. The upbeat and friendly atmosphere makes it a popular spot for both locals and visitors.
12. The Butcher Shop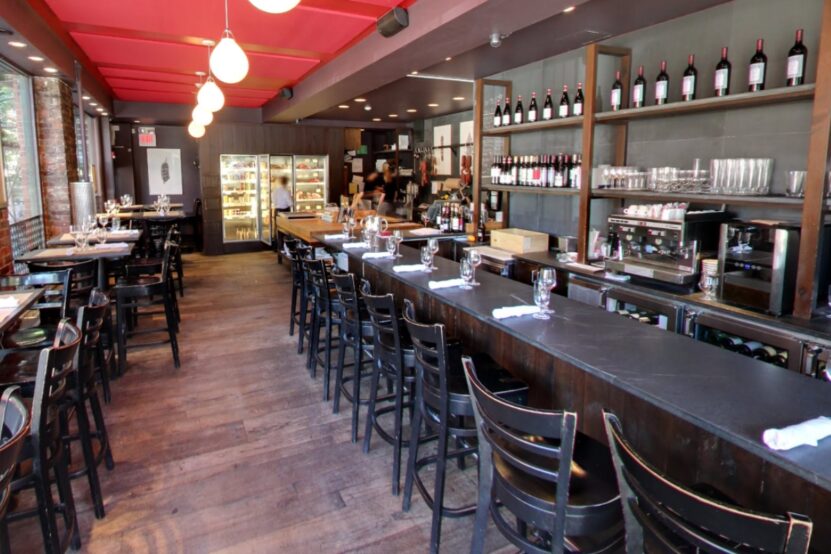 The Butcher Shop, located in the South End, is both a neighborhood wine bar and a full-service butcher shop, offering a curated selection of food and wine in a casual and friendly environment.
Culinary Selection
The Butcher Shop offers a variety of charcuterie, cheese, and fresh cuts of meat, allowing guests to enjoy high-quality produce in a relaxed setting. The wine list, focused on small producers, complements the culinary offerings, ensuring a harmonious dining experience.
Relaxed Sophistication
The ambiance at The Butcher Shop is one of laid-back sophistication, with its communal tables and open kitchen creating a friendly and inclusive atmosphere. It's a place where guests can enjoy the simple pleasures of good food and wine in a welcoming environment.
11. SRV
View this post on Instagram
Located in the South End, SRV, short for Serene Republic of Venice, is a Venetian-inspired Bacaro and wine bar offering cicchetti (small plates) and pasta made from house-milled flour.
Venetian Delights
SRV's menu pays homage to Venetian cuisine, featuring a variety of small plates, risottos, and pastas, each dish reflecting the rich culinary heritage of Venice. The Ossobuco Alla Milanese is a flavorful journey to the heart of Venetian cuisine, making SRV a favorite amongst those who cherish Italian flavors.
Elegant Comfort
SRV boasts an ambiance of relaxed elegance with its stylish and comfortable interior and spacious patio. The warm and inviting atmosphere, coupled with the delicious offerings, make it a delightful dining destination.
10. Toro
Toro, another gem in the South End, is a Barcelona-inspired tapas bar led by renowned chefs Ken Oringer and Jamie Bissonnette. It's a spot where Spanish flavors meet a lively and casual ambiance.
Flavorful Small Plates
Toro's menu is filled with a variety of small plates, each packed with bold and authentic Spanish flavors. Dishes like the Patatas Bravas and the Iberico Ham are must-tries, making Toro a go-to destination for tapas lovers.
Inviting Casualness
The ambiance at Toro is inviting and unpretentious, with communal tables and vibrant décor reflecting the casual and sociable spirit of Spanish dining culture. It's a place where the ambiance and the food work together to create an enjoyable and relaxed dining experience.
9. Barcelona Wine Bar
For those craving Spanish-inspired fare, Barcelona Wine Bar, located in the South End, is a vibrant and bustling venue offering a wide array of tapas and an extensive selection of wines.
Tapas & Vino
Variety of flavorful tapas
An extensive wine list featuring Spanish and South American wines
Charcuterie and Cheese selection
The culinary offerings are diverse and delectable, ensuring a gastronomically exciting experience with each visit.
Energetic Atmosphere
Barcelona Wine Bar's atmosphere is characterized by its dynamic and convivial vibe, making it a great spot for socializing and group gatherings. The rustic and warm décor creates a welcoming environment that complements the flavorful fare.
8. Ostra
Ostra, a high-end seafood restaurant located in the Back Bay, is celebrated for its refined Mediterranean-inspired seafood dishes, offering a chic and elegant dining experience.
View this post on Instagram
Seafood Excellence
Ostra's menu is a celebration of seafood, with dishes like Salt Crusted Branzino and Lobster Gnocchi delighting the senses. The meticulous preparation and presentation elevate each dish, promising an unparalleled seafood dining experience.
Refined Ambiance
The ambiance at Ostra is one of polished elegance, with sophisticated décor and soft piano music adding to the refined dining experience. The professional and attentive service ensures a seamless and delightful visit.
7. Uni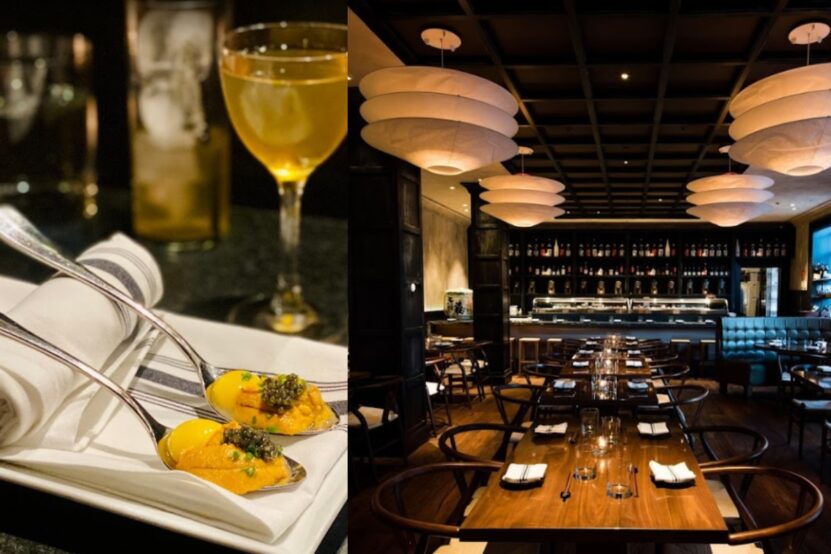 Uni, located in the Eliot Hotel, is an avant-garde venture by award-winning chefs Ken Oringer and Tony Messina, offering an innovative fusion of Japanese and global flavors.
Inventive Sushi & More
Uni's menu is a creative exploration of sushi and other Japanese dishes, with unique flavor combinations and presentation. From Sashimi to Street Food inspired items, every dish is a culinary masterpiece, showcasing the chefs' ingenuity and passion.
Modern Elegance
The décor at Uni is sleek and modern, with an intimate and sophisticated atmosphere. The vibrant and elegant setting complements the culinary experience, making each visit a memorable one.
6. Giulia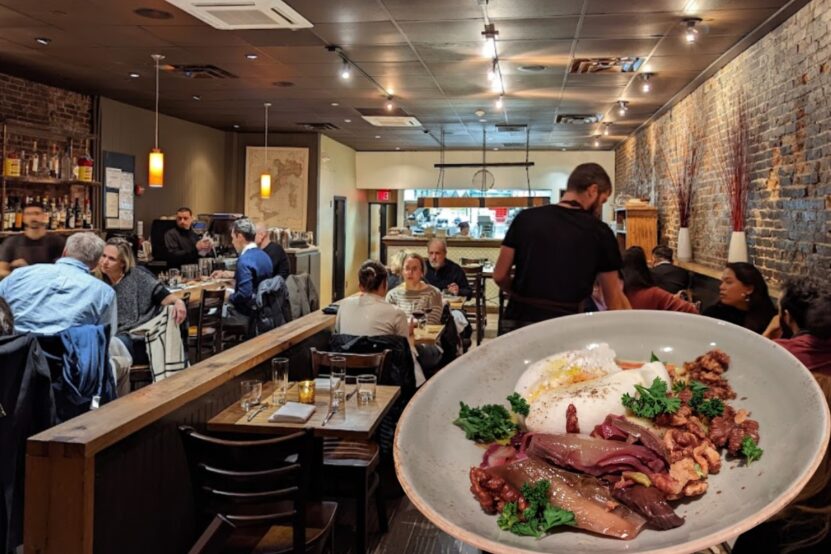 Nestled between Harvard and Porter Squares, Giulia is a pasta-focused Italian restaurant led by Chef Michael Pagliarini. It is a destination for those seeking artisanal pasta and other Italian delicacies in an intimate setting.
Handcrafted Pasta
Guilia stands out with its focus on handcrafted pasta, offering a diverse range made fresh daily. Dishes like Pappardelle with wild boar and Tagliatelle with rabbit are renowned for their depth of flavor and authenticity, providing a memorable Italian dining experience.
Warm Intimacy
The ambiance at Giulia is warm and inviting, with rustic touches and candlelit tables creating a cozy and romantic atmosphere. It's an ideal spot for both casual dinners and special occasions, thanks to its charming interior and friendly staff.
5. The Capital Grille
For those seeking a luxurious steakhouse experience, The Capital Grille, located in the Back Bay area, offers sumptuous steaks and an extensive wine list in a refined setting.
View this post on Instagram
Prime Cuts & Wine
Dry-aged steaks
Fresh seafood options
Award-winning wine list
The culinary offerings at The Capital Grille are meticulously prepared, catering to the discerning palate of steak enthusiasts and ensuring a lavish dining experience.
Upscale Sophistication
The restaurant's ambiance is characterized by its classic elegance and upscale sophistication, with dark wood accents and soft lighting creating a warm and inviting atmosphere. The attentive and knowledgeable staff further enhances the overall dining experience, ensuring every need is met with impeccable precision.
4. Coppa
Coppa, located in the South End, is a charming enoteca that combines Italian-inspired cuisine with a casual and friendly atmosphere. Chefs Ken Oringer and Jamie Bissonnette showcase their culinary prowess through innovative and delightful dishes.
View this post on Instagram
Flavorful Bites
Coppa's menu is a rich tapestry of flavors, featuring an array of antipasti, artisanal pizzas, and house-made pasta. Highlights include the Spaghetti Carbonara and the Wood Oven Fired Pizza, each bursting with authentic Italian flavors, making Coppa a perfect spot for Italian food aficionados.
Casual Elegance
Coppa's ambiance strikes a balance between casual comfort and understated elegance. The cozy and welcoming interior, combined with the al fresco dining option, adds to the restaurant's appeal, making it a local favorite.
3. Myers + Chang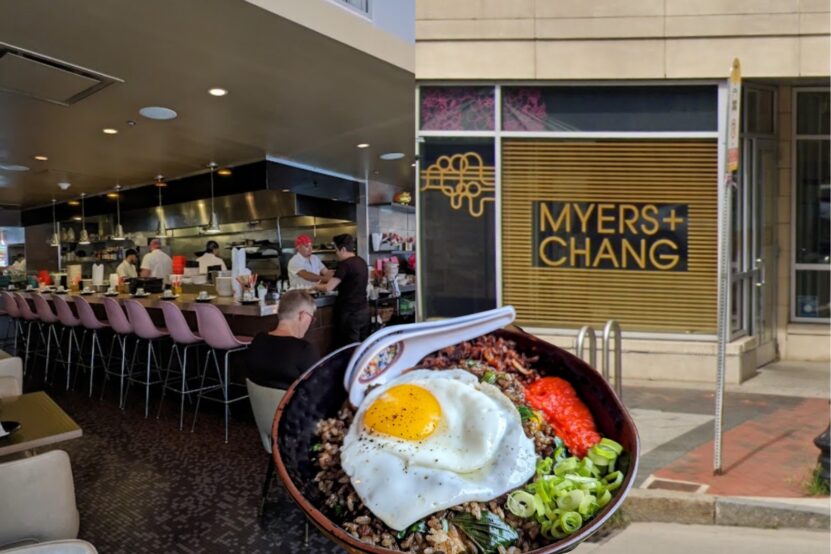 Myers + Chang offers a quirky and vibrant take on Asian-inspired cuisine, resulting from the creative collaboration between Chef Joanne Chang and restaurateur Christopher Myers.
Culinary Creations
In Myers + Chang, the menu is a playful and eclectic mix of dishes drawing inspiration from various Asian cuisines. Items like Indonesian Fried Rice and Mama Chang's Pork Dumplings are both flavorful and comforting, promising a culinary journey through the diverse flavors of Asia.
Aesthetic & Ambiance
The restaurant's decor is as dynamic as its menu, with funky artwork and retro furnishings creating a lively and casual vibe. The open kitchen adds to the energetic atmosphere, allowing diners to witness the culinary magic unfold.
2. Neptune Oyster
Neptune Oyster, located in the historic North End, is a haven for seafood enthusiasts. This petite, bustling venue is renowned for its fresh oysters and New England seafood classics.
What's on the Plate?
Freshly Shucked Oysters
Maine Lobster Roll
Wellfleet Clam Chowder
Seared George's Bank Scallops
Each dish is a testament to the restaurant's commitment to quality and freshness, providing an authentic taste of New England's marine bounty.
The Vibe
The restaurant exudes a lively and intimate atmosphere, with cozy seating and nautical decor reflecting its seafood-centric menu. Despite the often long waits due to its popularity, the cheerful and efficient service makes the dining experience well worth the wait.
1. Oleana
Located in Cambridge, Oleana is famed for its creative approach to Eastern Mediterranean cuisine, helmed by the acclaimed Chef Ana Sortun. With a serene patio and cozy interior, it provides an ideal setting for a memorable meal.
View this post on Instagram
The Menu
Oleana's menu is a vibrant collage of flavors, reflecting the rich culinary traditions of the Mediterranean region. From the savory lamb to the exquisite vegetarian dishes, each item is meticulously crafted, ensuring a symphony of flavors in every bite.
Signature dishes like Sultan's Delight tantalize the palate, blending textures and tastes in a manner that's both comforting and exhilarating.
The Atmosphere
Oleana's inviting ambiance is a harmonious blend of rustic charm and modern elegance, complementing the culinary delights. The fragrant patio, adorned with colorful flowers and soft lighting, offers a tranquil dining oasis, making it a favorite spot during the warmer months.
FAQs
How Can I Make Reservations for These Restaurants?
Most restaurants offer reservations through their official websites or through restaurant reservation platforms. It's always a good idea to book in advance, especially for popular spots like Neptune Oyster and Oleana, to avoid long wait times.
Are There Vegetarian or Vegan Options Available at These Boston Restaurants?
Yes, many of the listed restaurants offer vegetarian options and some even have vegan dishes on their menu. For instance, Oleana is known for its exquisite vegetarian dishes. However, it is recommended to check the restaurant's menu online or contact them directly for the most accurate and up-to-date information on their vegetarian and vegan offerings.
Can I Organize Private Events or Large Group Dinners at These Restaurants?
Many restaurants do offer private dining options or can accommodate large groups, but availability will vary by restaurant. It is recommended to contact the restaurant directly well in advance to inquire about availability, pricing, and any specific requirements or preferences you may have.
Do the Restaurants Listed Offer Outdoor Seating or Patio Dining?
Yes, some restaurants like Oleana and Coppa offer serene patio dining or outdoor seating options, especially popular during the warmer months. However, availability may be limited, and it's wise to inquire about outdoor seating when making a reservation.
Is There a Dress Code for The Restaurants Mentioned, Particularly the High-End Ones?
Dress codes can vary with each restaurant. High-end restaurants like The Capital Grille and Ostra may have a more formal dress code, requiring smart or business casual attire. It's advisable to check the restaurant's website or call ahead to confirm their dress code policy to ensure an enjoyable dining experience.
Do These Restaurants Offer Takeout or Delivery Options?
Some of the restaurants may offer takeout or delivery services, especially given the rise of food delivery platforms. However, the availability of these services can vary, and for the most accurate and current information, it's best to check the restaurant's official website or contact them directly.
Final Words
Boston's rich culinary tapestry is brimming with choices ranging from cozy neighborhood spots to high-end dining establishments, each contributing to the city's diverse food scene.
Indulge in the rich culinary scene of Boston while also taking in its iconic landmarks and vibrant culture, making your visit to this historic city a delightful and unforgettable experience.
Whether it's the innovative Mediterranean dishes at Oleana, the luxurious steaks at The Capital Grille, or the flavorful small plates at Toro, Boston offers a culinary journey like no other, inviting food lovers to explore and savor the multifaceted flavors of this historic city.